Our guest is Professor Nancy MacLean. We discuss her latest book, DEMOCRACY IN CHAINS: THE DEEP HISTORY OF THE RADICAL RIGHT'S STEALTH PLAN FOR AMERICA, published by Viking Press. It is a thoroughly researched, to my mind shocking, exposé of the man and the ideas behind the billionaire-funded, relentless campaign to suppress voting, privatize everything from education, prisons, social security and Medicare, eliminate unions, curb democratic majority rule and change the US Constitution in order to make democracy safe for capitalism and plutocracy. Most reporting of the rise of the extreme right focuses on the Koch brothers and their money – but who created the blue print for their decades long, stealth campaign that has been all too successful – at least so far? Our guest, Nancy MacLean, has spent a decade investigating the origins, tactics, strategies and goals, of that campaign, that have brought us to this crisis point in our history.
Nancy MacLean is the William Chafe Professor of History and Public Policy at Duke University. She is the award winning author of BEHIND THE MASK OF CHIVALRY: THE MAKING OF THE SECOND KU KLUX KLAN and FREEDOM IS NOT ENOUGH: THE OPENING OF THE AMERICAN WORKPLACE. Professor MacLean's scholarship has received more than a dozen prizes and awards. In 2010, she was elected a fellow of the Society of American Historians.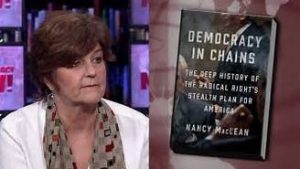 Of interest to Montana listeners is her response to the proposed $5.7 million donation from The Charles Koch Foundation to MSU Bozeman for a proposed Economics Research Center.
or
Download